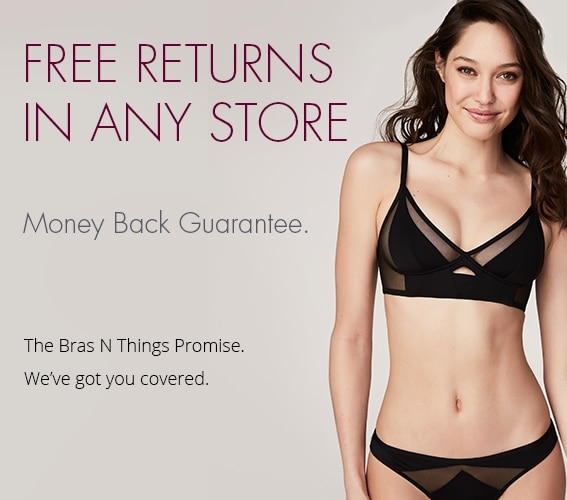 No regrets! That's what Bras N Things offers with our Money Back Guarantee.
If something isn't right or you just change your mind - don't worry. Not the perfect fit or damaged - no problems. You are covered with our no hassle money back guarantee on items purchased either online or in store.
*Excludes gift cards, e-gift card, adhesive cups/tape and toys.
How to Return ?
You can return any items you are not satisfied with by either popping into a Bras N Things store or by sending it back to the Bras N Things store below.
To download the returns form, please see here
Please note: All items returned posted back to the Bras N Things store will be refunded. For any exchanges please visit us in store.
Please send your returns to :
Attn: Store Manager
Shop 448A
The Shops at Mission Viejo
555 The Shops at Mission Viejo
Mission Viejoo
CA 92691-6514
To return items at any Bras N Things store, simply take the item(s) you are returning into any Bras N Things store, along with your original Order Confirmation Email. Our friendly team can help you with your exchange or refund! Find your closest store here.
How will you be refunded ?
Refunds are issued in the same tender as the original purchase. For example, if the item was purchased using a Visa card, the credit will be refunded to the same Visa card *please ensure you have your original Confirmation Email with you. If your order was placed using a Bras N Things Gift Card the refund amount will be put onto a new Bras N Things Gift Card.