---
It's that time of the year where we celebrate love, and everything that comes with it! But this year we wanted to do things a little bit differently… and instead of focusing on romance, chocolate, flowers, sex (okay, maybe we can talk about that a little), we want to encourage you to put yourself first, do your own thing, guilt free.
So, we are excited to announce the launch of our 2022 Valentine's Day campaign, I COME FIRST, featuring Milo Hartill, Elodie Russell and Mercy Rose Watson, with a collection that celebrates putting yourself first however you choose to do so. This is the era of self-love, confidence and doing what makes you happy.
Whether you'll be spending your Valentine's Day with your partner, your gals or like Milo with, "chocolate and treating myself," we want to encourage women to self-indulge and be a little bit selfish this year. BNT want you to feel empowered, explore yourself (no innuendo intended there) and to be who you want, when you want, and wear some pretty gorgeous lingerie whilst doing it.
---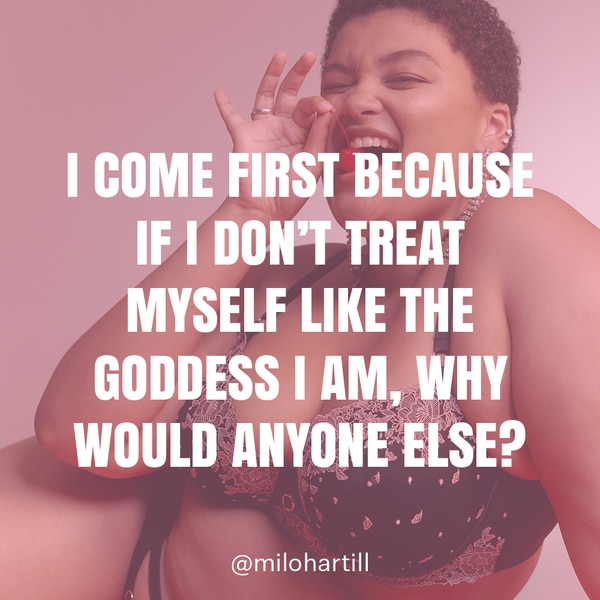 ---
Inspired by the trend 'Project Happiness', which is centered around bright colours & sherbert-y pinks, optimism, dopamine dressing and all things nice, the range encapsulates all moods; feminine and flirty, bold and expressive, playful and silly.
We sat down with our talented designers to get a little insight into the designs you'll see in stores and online.
Our essentials range sees all the usual styles we know you all love, from our Antoinette lingerie and sleepwear that has been inspired by classic lingerie and beautiful boudoir tones of blush pink and black, to our beautiful Juliet sleepwear range with beautiful red based floral print, with pearls and premium detail that senior buyer Laura Flanagan says was inspired by the fabric print where, "it made us dream of warm balmy nights in Spain…".
Laura knows just how she comes first, "I put myself first through self care, if you can look after yourself and feel healthy, strong and happy, then you're in a great place to start giving to others, but you have to remember to look after yourself first!".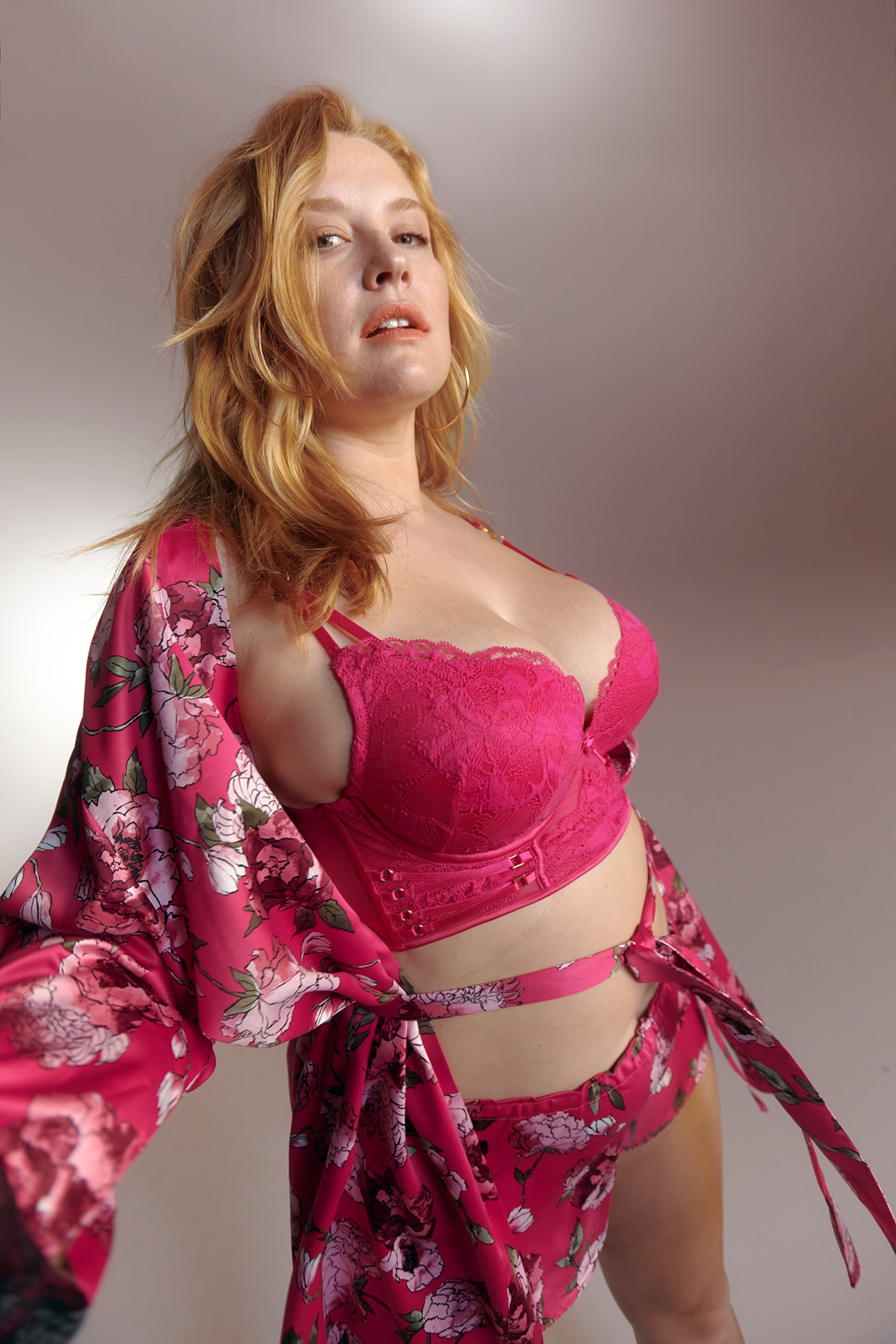 Mercy in our Malika lingerie set & Juliet sleepwear.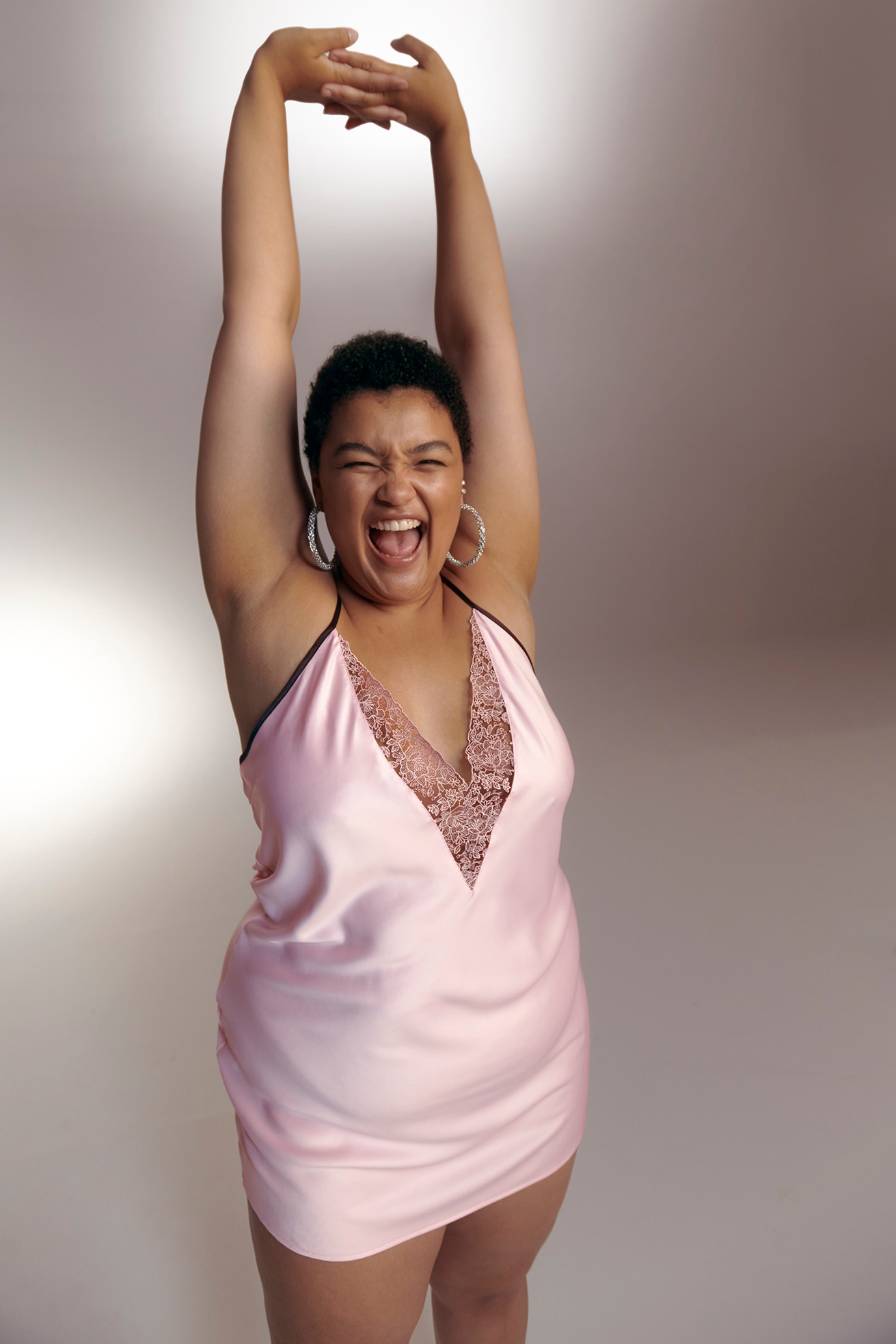 Milo in our Antoinette slip.
---
Our Vamp range features the beautiful LYS First lingerie range which stands for (you guessed it) 'Love Yourself First', which was inspired by "all the amazing high end designer details that we are seeing on the catwalk", says senior buyer Emma Stubbs and designed with tied satin knots, gold beads, gold hardwear, satin binds and intricate floral eyelash lace.
The range was designed with the intention of women dressing up for themselves, the feeling of confidence when you wear something beautiful and it is not dependent on whether it is seen by anyone else, whereas our Stealing Hearts range, with pop fluro colours and full cup coverage was designed to get a perfect fit which combined support and sexy coverage, which is Mercy's favourite outfit because it's, "colourful, cheeky and playful."
Our Mykonos Breeze for Enchanted was designed to actually steer away from the traditional V Day 'sexy', and was made for those who want to wear beautiful lingerie for their own benefit rather than the benefit of others. Sporting beautiful oversized heart dimante, high shine embroidery and white and blush colour palette, "it is an instant endorphin once you try it on and see how beautiful it looks…and aides the idea of women dressing for themselves and breaking stereotypes on Vday."
And how does Emma break V Day traditions and put herself first? – "As a woman, I put myself first because I make my decisions based on what makes me happy. When it comes to dressing myself, I do it for my own confidence and pleasure. There is nothing more enjoyable than starting your foundations with lingerie that makes you feel feminine & empowered. It really doesn't matter if anyone else sees it, it is an unspoken boldness".
---
Emma absolutely rocking it in our LYS First bodysuit, Mykonos Breeze set and Stealing Hearts bodysuit, all available within the Enchanted & Vamp range.
@Emstubbsy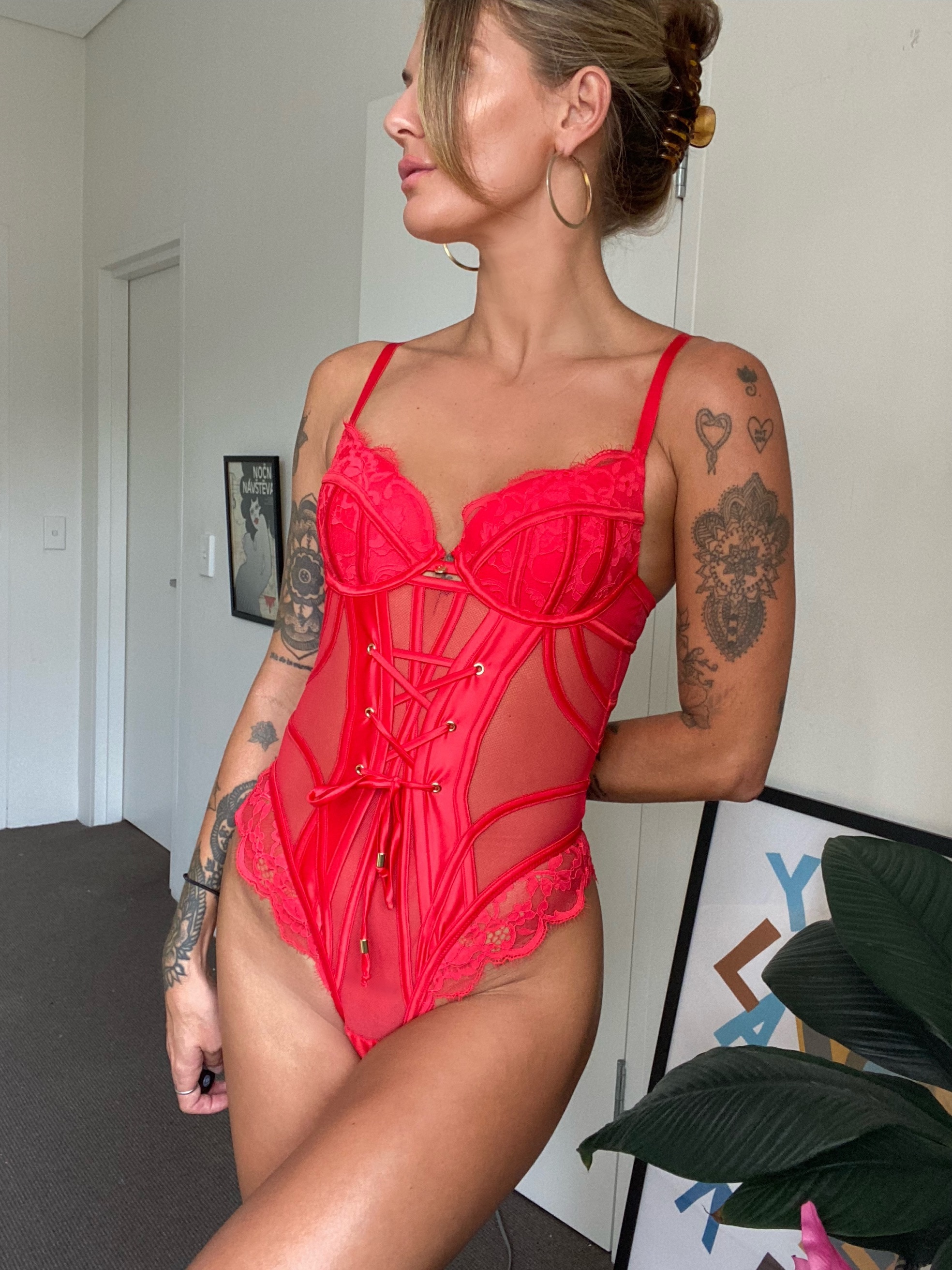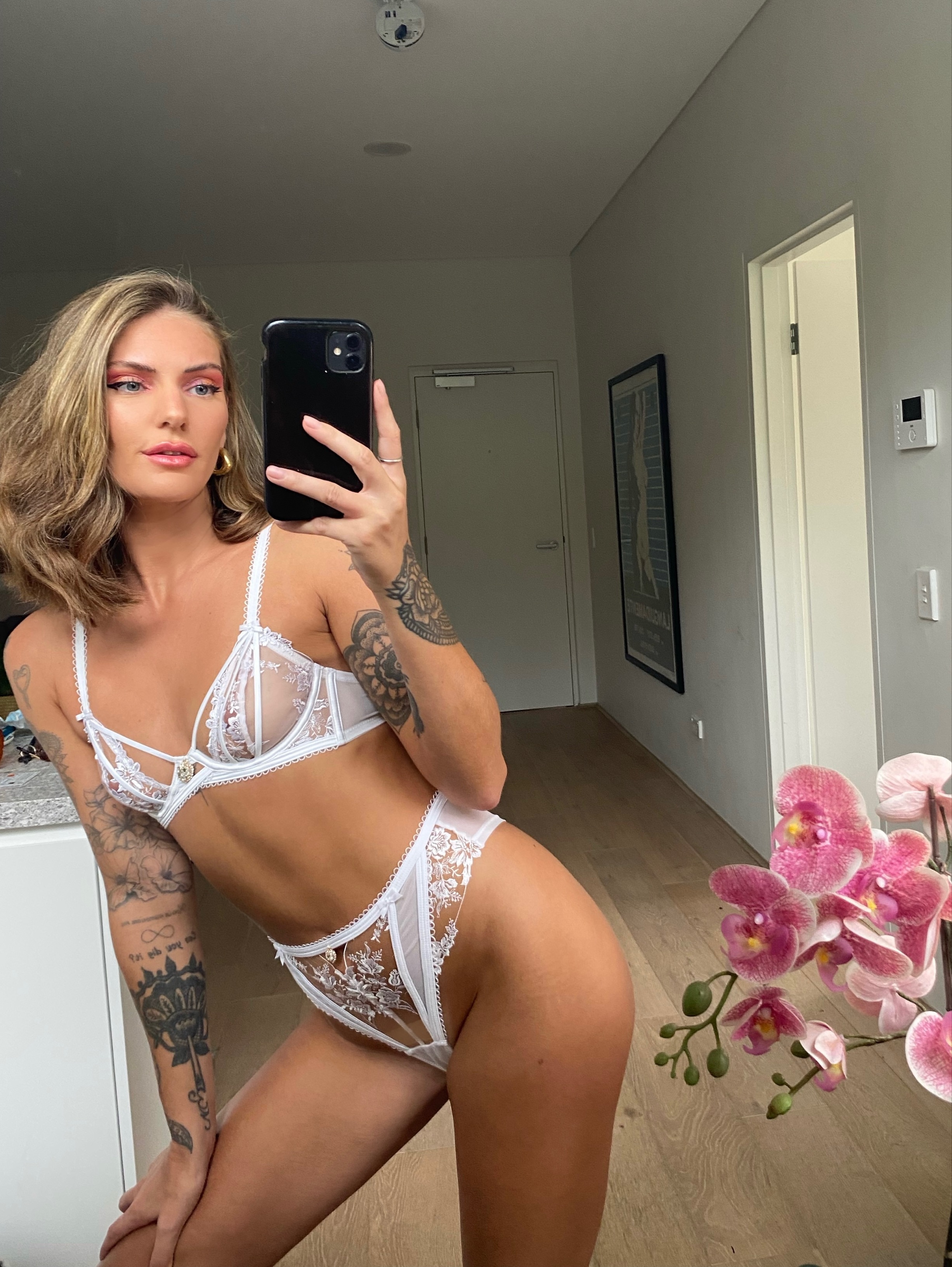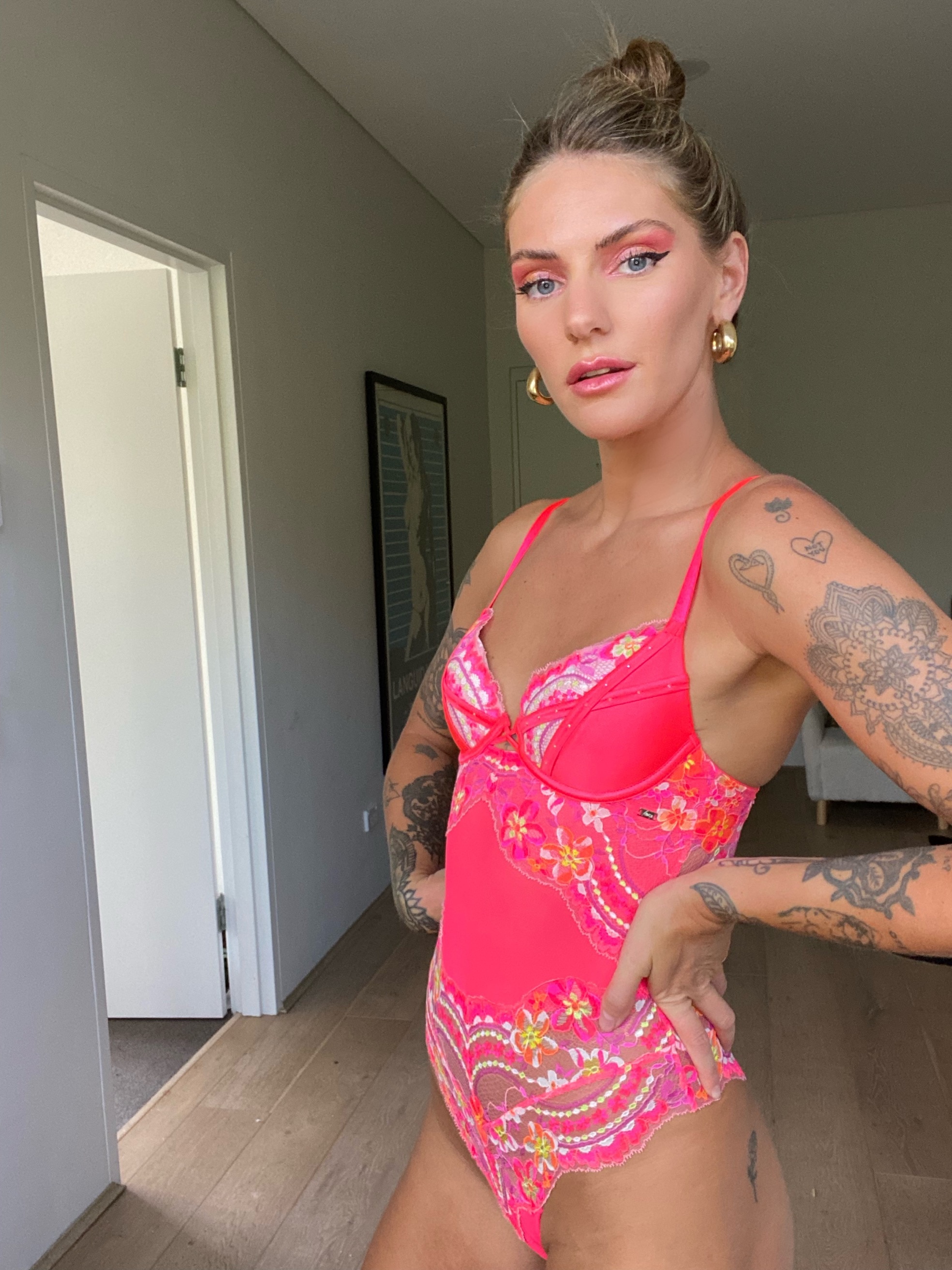 And last, but certainly not least, our Night Games range designed to unlock your daring side. From our Liquid Shine lingerie sets and slip with delicate black detailing and moody tones to our Sweetheart set in ballerina pink with love heart print and embroidery, we've covered all angles when it comes to the fun stuff (just check our Night Games accessories range).
"The range was designed to empower all to express their inner sexuality and to put themselves first through a little bit of self-indulgement this Valentine's Day," says senior buyer Jana Doornenbal. We definitely agree this year it's all about spending Valentine's Day however way you want to and to be a little bit selfish – even the gorgeous talent Mercy is spending it, "Cooking for myself – I love spending quality time privately."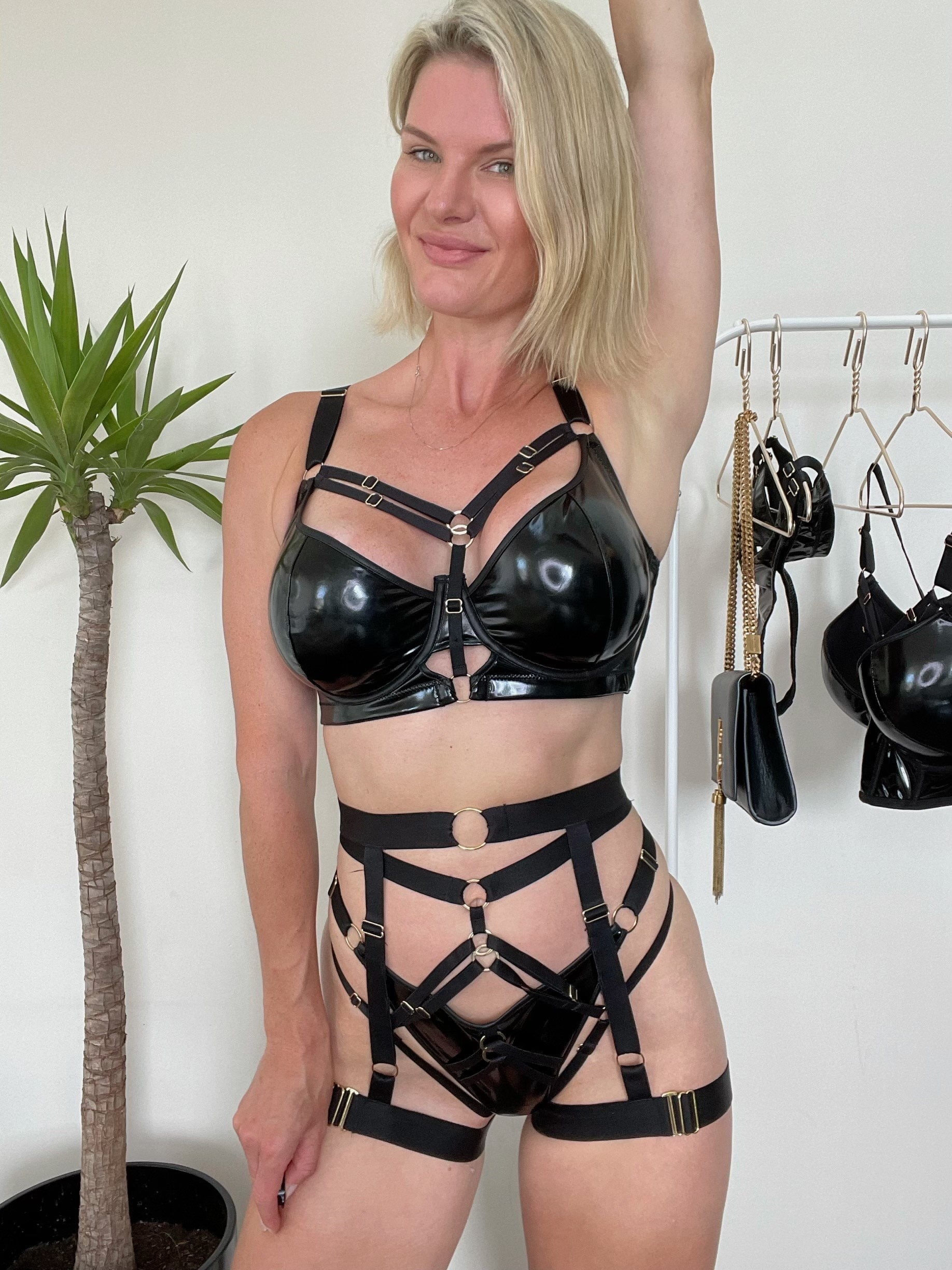 Jana styling the Liquid Shine range for both home...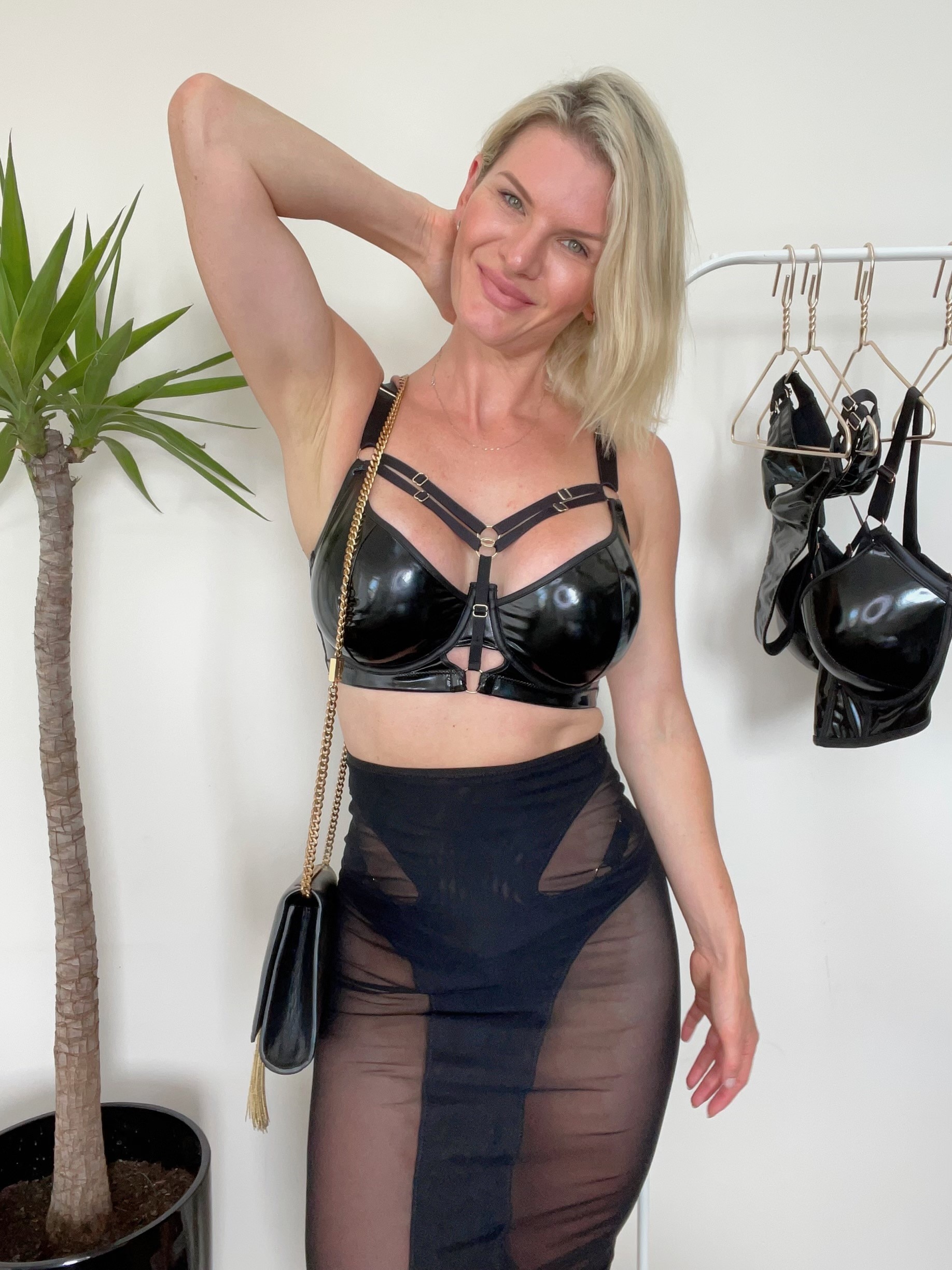 ...and outwear.
@I.am.jana_
---
We are so excited to share this range with you and supporting our community to put themselves first this Valentine's Day, whether you will be spending it with your friends, your partner, your family or by yourself with a glass of Pinot Noir and the latest episode of 'Just Like That', Just do it your way.
xxx BNT