Anna Polyviou's trifle with a tiramisu inspired twist is the perfect festive treat! It's fresh, summery and addictive, all without the caffeine and alcohol inclusions. It's delicious, moreish and fun for the whole family.
Anna Polyviou's Berry-Misu Trifle
SERVES: 12 PREP: 190 mins
Ingredients:
JELLY
2 x 85g packets raspberry jelly crystals
SPONGE FINGERS
5 eggs, whites and yolks separated
150g caster sugar
1 tsp vanilla bean paste
130g plain flour, sifted
50g icing sugar
RASPBERRY DIPPING SYRUP
150g caster sugar
150g water
1 punnet raspberries
VANILLA WHITE CHOCOLATE MASCARPONE CREAM
225ml milk
1 vanilla pod, seeds scraped
5 egg yolks
110g caster sugar
300g white chocolate, chopped
375g mascarpone
450ml pure cream
MERINGUE KISSES
3 egg whites
100g caster (superfine) sugar
50g pure icing (confectioners') sugar, sifted
TO DECORATE
6 punnets strawberries, halved
3 punnets raspberries, halved
¼ bunch fresh basil, leaves picked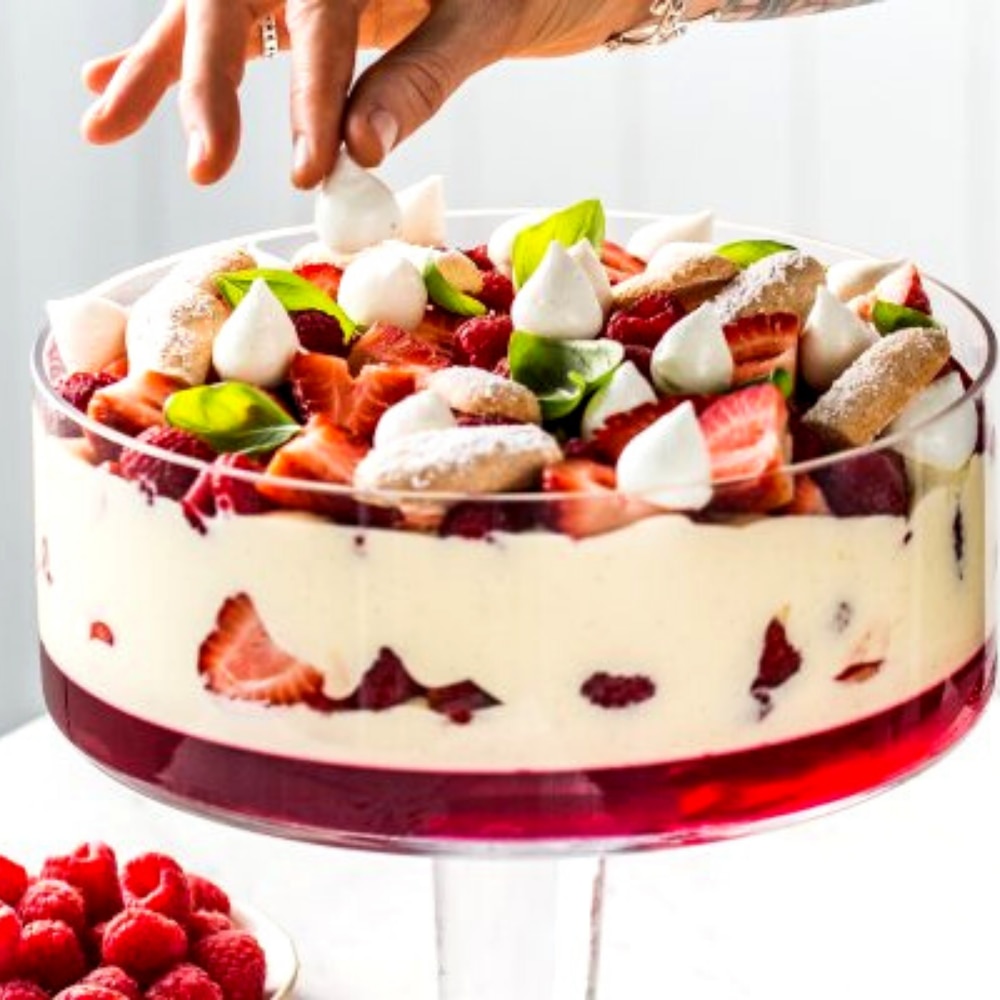 Method:
1. Prepare jelly according to packet instructions. Pour into the base of a large trifle dish and place in the fridge to set overnight.
2. For the sponge fingers, preheat the oven to 190°C and line 2 large baking trays with baking paper. Place egg whites, 100g caster sugar and vanilla in the bowl of an electric mixer fitted with the whisk attachment. Whisk until semi-firm, then gently fold through sifted flour.
3. Place egg yolks and remaining 50g caster sugar in the clean bowl of an electric mixer fitted with the whisk attachment. Whisk until pale and fluffy, then fold into the egg white and flour mixture.
4. Transfer mixture into a piping bag with a plain 13mm nozzle. Pipe 10cm long fingers onto the prepared trays, then sift over the icing sugar to cover. Bake in the oven for 7-8 minutes, then transfer to a wire rack to cool. Set aside.
5. For the raspberry dipping syrup, place sugar and water in a small saucepan and bring to the boil. Once boiling, transfer to a blender with the raspberries and blend until smooth. Pass mixture through a fine sieve into a bowl and set aside to cool completely.
6. For the vanilla white chocolate mascarpone cream, place milk and vanilla pod and seeds into a saucepan and bring to the boil. Meanwhile, whisk egg yolks and caster sugar together in a medium bowl. Once the milk mixture has boiled, pour half into egg mixture and whisk well. Pour the egg mixture back into the saucepan with remaining milk and cook out until it thickens and reaches 83°C on a sugar thermometer. Pour mixture over the white chocolate and stir. Set aside until chocolate has melted.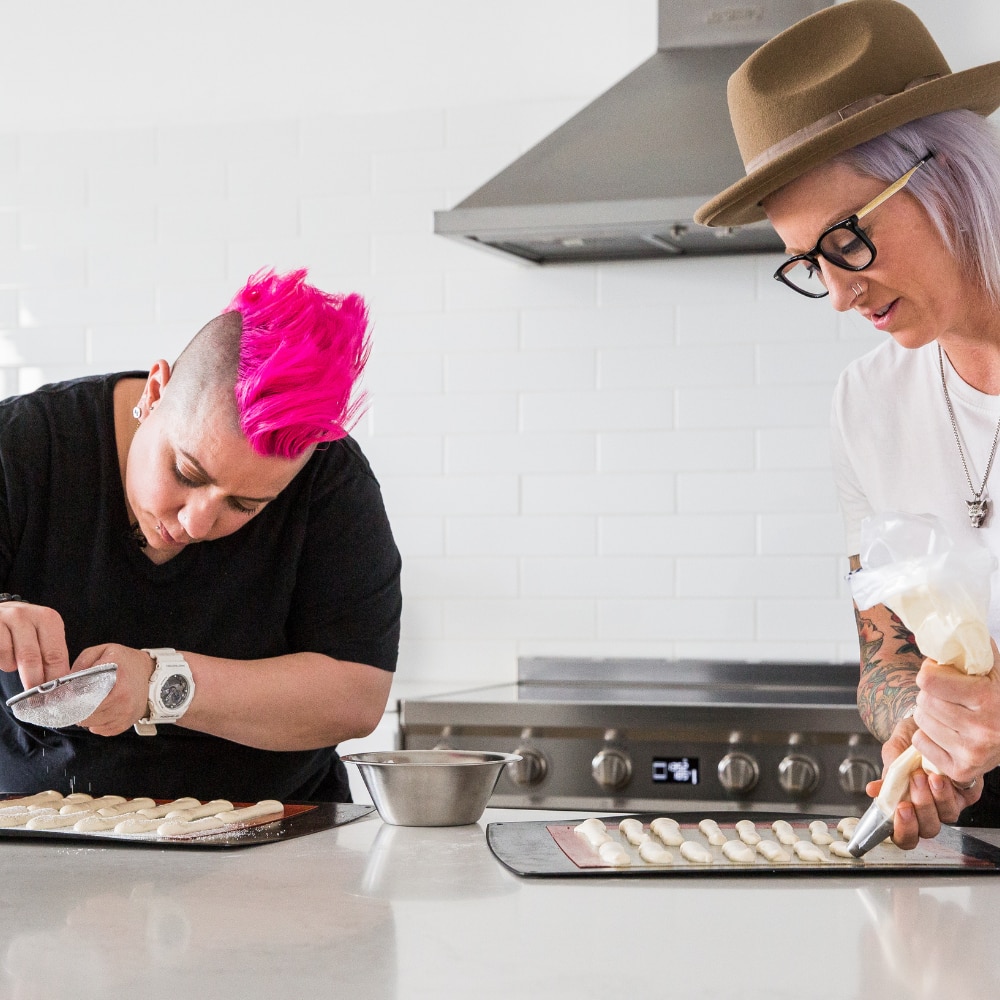 7. In a separate bowl, whisk together mascarpone and cream until semi-whipped. Add a little of the cream mixture to the white chocolate mixture to loosen, then add the remaining cream mixture and whisk, by hand, until combined. Set aside.
8. For the meringue kisses, preheat the oven to 74°C (165°F) and line a baking tray with baking paper. Place egg whites in the clean, dry bowl of an electric mixer fitted with the whisk attachment and whisk on high until soft peaks form. Reduce mixer speed and gradually add the caster sugar. Return the mixer to high and whisk until the meringue is thick and glossy and the sugar has dissolved. Rub a little meringue between your fingers; if it feels gritty, continue to whisk. Firm peaks need to be achieved. This should take about 5 minutes. Remove the bowl from the mixer and quickly fold in the icing sugar, or the meringue will become runny.
9. Transfer mixture into a piping bag with a size 9 plain nozzle. Pipe the meringue onto the prepared trays and bake for 2 hours 30 minutes or until dried out. Keep checking to make sure the temperature isn't too high as no colour is wanted. Remove from the oven and allow to cool on the trays, then store in an airtight container until required. They will keep for 1–2 weeks.
10. When you're ready to assemble, remove the trifle dish with jelly from the fridge. Spoon half of the vanilla white chocolate mascarpone cream over the jelly. Dip sponge fingers into raspberry dipping syrup, keeping 8 fingers undipped. Place fingers onto a wire rack for excess dipping liquid to drip off. Arrange dipped biscuits over the mascarpone cream, then top with 2 punnets of halved strawberries, and 2 punnets of raspberries. Top with remaining mascarpone cream, remaining berries and halved undipped sponge fingers (dust these in icing sugar, first). Finish with basil leaves and meringue kisses.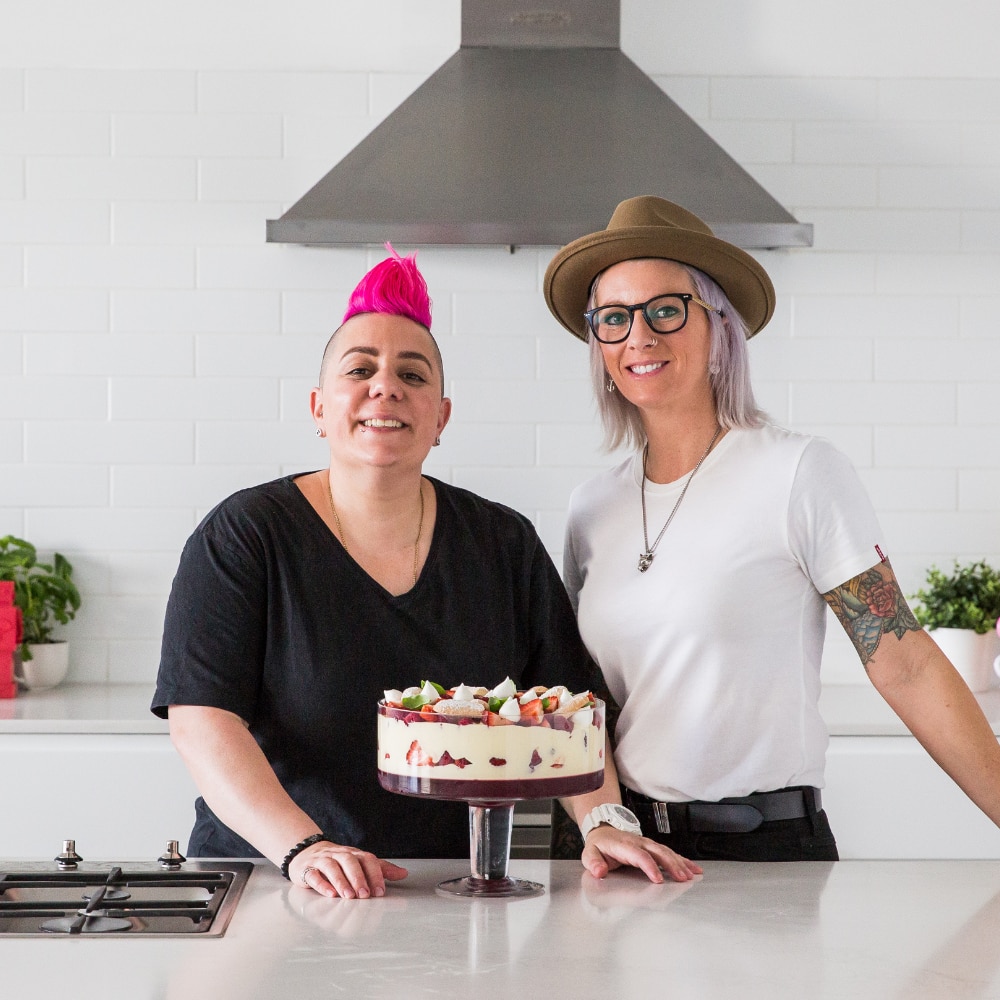 Cooking a dish together with family or friends is an opportunity to share stories of our histories or create new ones, together. Cooking is an experience that can take us across oceans and lifetimes to different places and cultures - whether it's baking a cake or a celebratory pavlova, frying some rice or adding an egg to a barbecued burger – we believe those moments spent together make the food taste better.
Join Australian Eggs' friends Anna Polyviou, Warren Mendes, Jo Barrett & Matt Stone, Adam Liaw, Julia Busuttil Nishimura and Peter Gilmore as they make a meal to remember with their loved ones.
Photographer: Trent van der Jagt