For some of us, baking has been a sweet escape this year. We all know someone with a game changing banana bread recipe, and baking foccacia is now considered an art form.
Whilst some of us have been less than successful in the kitchen (big thanks to all the fire alarms out there reminding us of this), Tegan Martin has become one to watch in the online baking space. Her IGTV channel, Tegan's Sweet Treats, has been a hit amongst budding bakers, showing us how we can satisfy our sweet tooths without the sugar hit. We sat down with Tegan (virtually) to find out what have been a few of her favourite go-to recipes this year.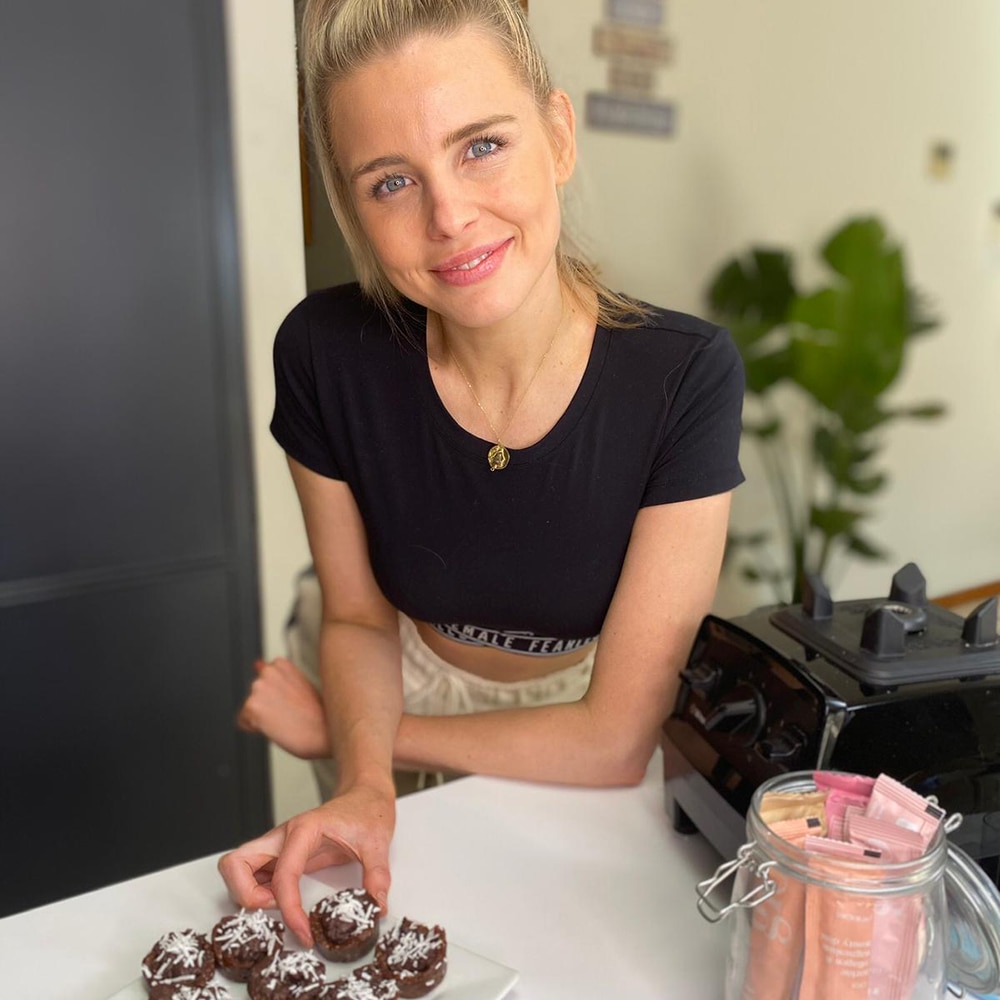 What are some of your favourite quick and delicious recipes?
My Choc Peanut Crunch has to be my new favourite treat – so quick and easy to pull together! It's raw as well as dairy, gluten and refined sugar free which makes it such a good option for your whole family. One slice of the bad boy a day will satisfy your sweet tooth without binging on refined sugar.
Check out the recipe below, as well as on my Tegan's Treats IGTV series.
Choc Peanut Crunch (RAW, DF, GF, RSF)
400g Dates
1/3 cup Pic's Peanut Butter
2 tbsp Vanilla Extract
1 cup Rice Puffs
½ cup Peanuts
½ cup Loving Earch dark chocolate
Blend the dates, peanut butter and vanilla extract in your blender of choice - I used my Vitamix.
Add the rice puffs and peanuts into a large bowl and pour the date binding mixture in. Line a glass dish with baking paper and press in the mixture. Pop in the fridge for 20-30mins.
Melt 100g of dark chocolate (or choc of choice) and pour on top of your slice once it has hardened. Pop back in the fridge for 25 mins and take out to slice with a hot knife.
Do you have a favourite winter dish to cook and enjoy at home?
Healthy Apple Crumble has definitely been on high rotation in the last few months and is such a good option for a cold winter's morning! I keep a batch of this crumble in my fridge at all times. It is great to have on hand when I am craving a sweet treat after dinner or heated up first thing in the morning for a healthy breakfast option (with coconut yogurt of course).
If I could introduce you to one recipe that will make life easy and change the way you think about healthier alternatives this would be it! Check out the recipe below, as well as on my Tegan's Treats IGTV series.
Healthy Apple Crumble
2 cups of Oats
1 cup of Coconut (shredded or flaked)
½ cup macadamia nuts (ground In food processor)
1 x shake of Cinnamon
¾ cup Coconut Oil
¼ cup Maple Syrup
7 x Pink Lady Apples ⠀
Stew apples in a pan with a small amount of water. Whilst the apples are stewing, mix the crumble topper ingredients together in a glass bowl. ⠀
Once apples are stewed pour into a glass container and pop the crumble ingredients on top, then press them down nice and firm. One pressed into the glass container pinch a few bits of the crumble up again to give the top of your crumble a crunchy golden texture. Bake for approximately 20 mins or until golden.
What is your favourite sweet treat or dessert to cook?
I've been using cooking as my vice to get through these times and definitely seem to be cooking later at night! One of my favourite creations so far has been these Zesty Lemon Slices. I keep these slices of raw heaven in the freezer for up to a month and take a piece out of the fridge each day to thaw for 10 mins before devouring! Check out the recipe below, as well as on my Tegan's Treats IGTV series.
Zesty Lemon Slice
BASE
1 cup Dates, soaked in boiling water for 5 minutes
1 cup Almond Meal
1 tbs Nuttelex melted
1x Egg white
2x Lemons zested
TOPPING
3 Lemons (zest and juice)
1 cup Macadamias
400ml Ayam's coconut cream
¼ cup Maple Syrup
Mix all of the base ingredients in a blender (I would have used my Vitamix, but it is in lockdown in another apartment!) and press into the base of a glass tray. Freeze for 20min. Blend all of the topping ingredients and pour over the top of the frozen base. Freeze overnight & cut into piece's the next morning.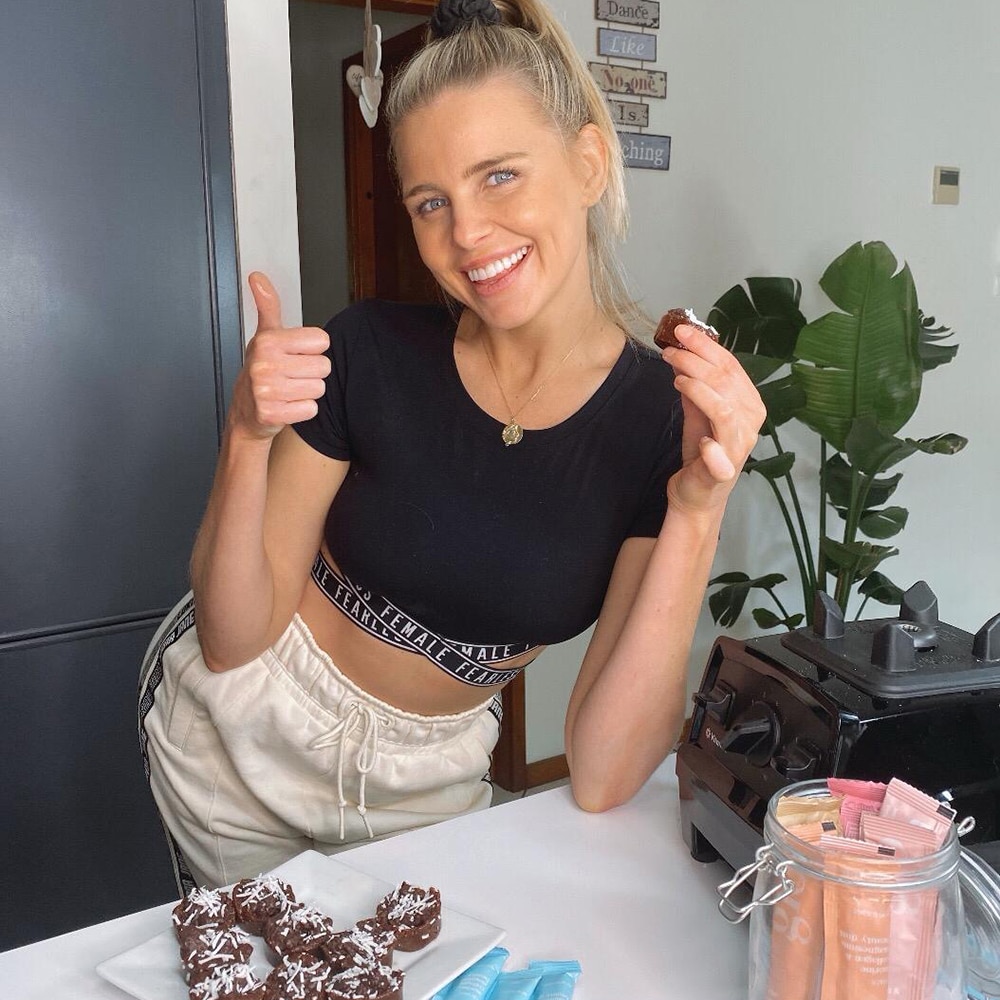 Want, no, NEED more? You can follow Tegan's Sweet Treats IGTV series here.