When COVID lockdowns at the beginning of 2020 prevented Astrid Montague from being able to work as a hair and makeup artist, she decided to take matters into her own hands. She is now an established goldsmith and has created a successful jewellery brand using premium materials for products that will last. Check out the guide below for a set-by-step guide to making your own hoop earrings.
We sat down and spoke with Astrid about her day-to-day, creating her own narrative and how she stays motivated.
What inspired you to begin creating jewellery and were you nervous about starting something new?
It all bloomed during COVID this time last year, because I couldn't work my usual occupation in hair and makeup. I was feeling really unmotivated so went back to the drawing board to see what I could do in the meantime. I have always had a strong passion for jewellery. I learnt silversmithing as a bit of a hobby when I was younger, but it was just basic and quite limited soldering techniques, I needed to learn more but could never find the time without compromising my other work. I wanted to learn lost wax castings and broaden my skill set, but had never gotten around to it, so I thought what better way to utilize this time than learn something new. I started doing more research and reached out to a few other jewellers, after a few months of working out how I would approach it I then made a website and just went for it!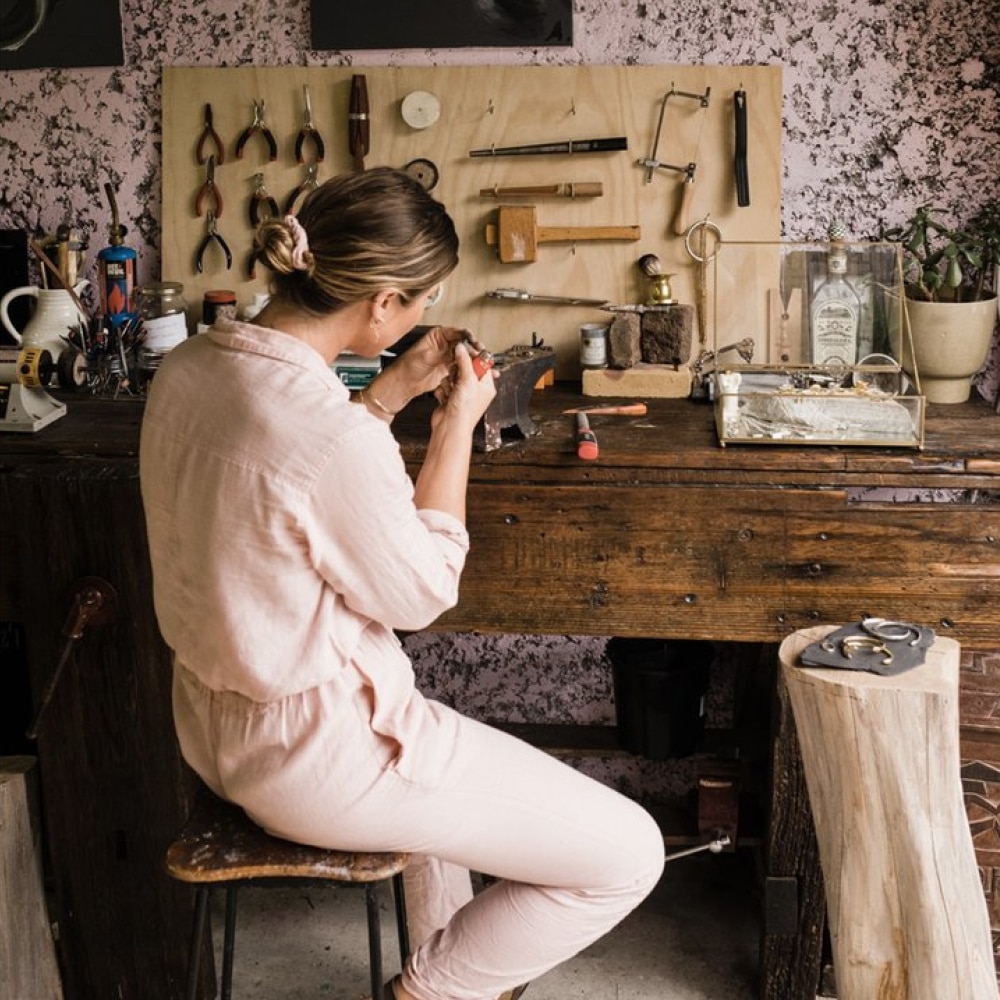 How long did it take to build interest in your jewellery, is starting something from scratch a slow build or did you find it took off faster than expected?
It was a slow start, but I was constantly uploading the process of my learnings to Instagram and with people also stuck at home I found they began taking interest in what I was making and started following the journey, asking questions and giving requests. Being a hair and makeup artist, I had some close connections with videographers, models, photographers etc. so I was able to put together a campaign shoot and start advertising my collection online and via Instagram with proper content and aesthetics - this is when I noticed things started taking off.
What is the biggest obstacle you face in the creating process?
There are constant road blocks, especially as I'm teaching myself, and it can be quite stressful as there are things you don't think about that can go wrong or slow down the process. For example, right now I'm running out of packaging. Time management can be tough, and having so many different things to keep on top of isn't always easy, but you definitely learn and get better as you go. At the very beginning I said yes to everything - even if I didn't know how to do something, I would learn. It seemed like a proactive mindset at the time, but I remember one design in particular giving me sleepless nights for over a week. The technique in which I had planned to make this piece was wrong, and I was running out of time to think of an alternative way to produce it. It all worked out in the end and I was able to overcome the obstacles and again learn something from it, each time you become better prepared for the next.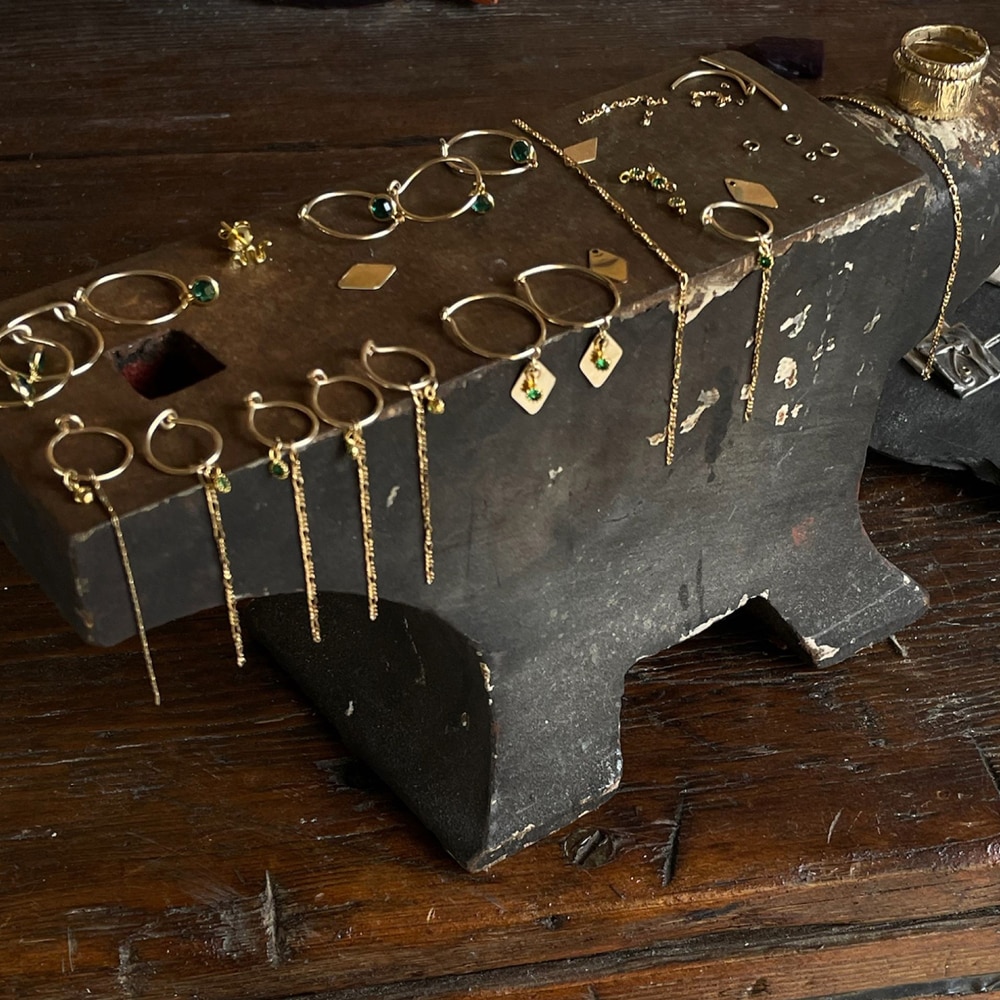 What inspires your designs?
I have a mood board in my studio, so anytime I see something I like, whether it be jewellery or a print on a t-shirt, I add it to my workshop wall. I'm really fascinated by Egyptian hieroglyphics, so that's where my designs originated from. It was also important to me for everything to be unisex, as I found there was a bit of a gap in the market for nice looking men's jewellery. I really tried to focus on that and have some pieces that aren't too feminine, polished and perfect. Having always loved jewellery and worn a lot of it, I just go by the type of things I would like and change it up. On top of that I have a lot of enquiries for custom designs - so that encourages me to explore new avenues and ideas.
Bras N Things encourages women to be the author of their own stories and follow their dreams – as a woman who is successful in doing this, do you have any advice for others who are considering doing the same?
As cliché as it sounds, just go after it & do it. If there's something you're interested in trying, just take that first step and see how it goes. If you're passionate about something, you'll succeed. You'll be willing to put in the hard work and time required because you enjoy it, and you'll want to.
Now to try your own hand at jewellery making!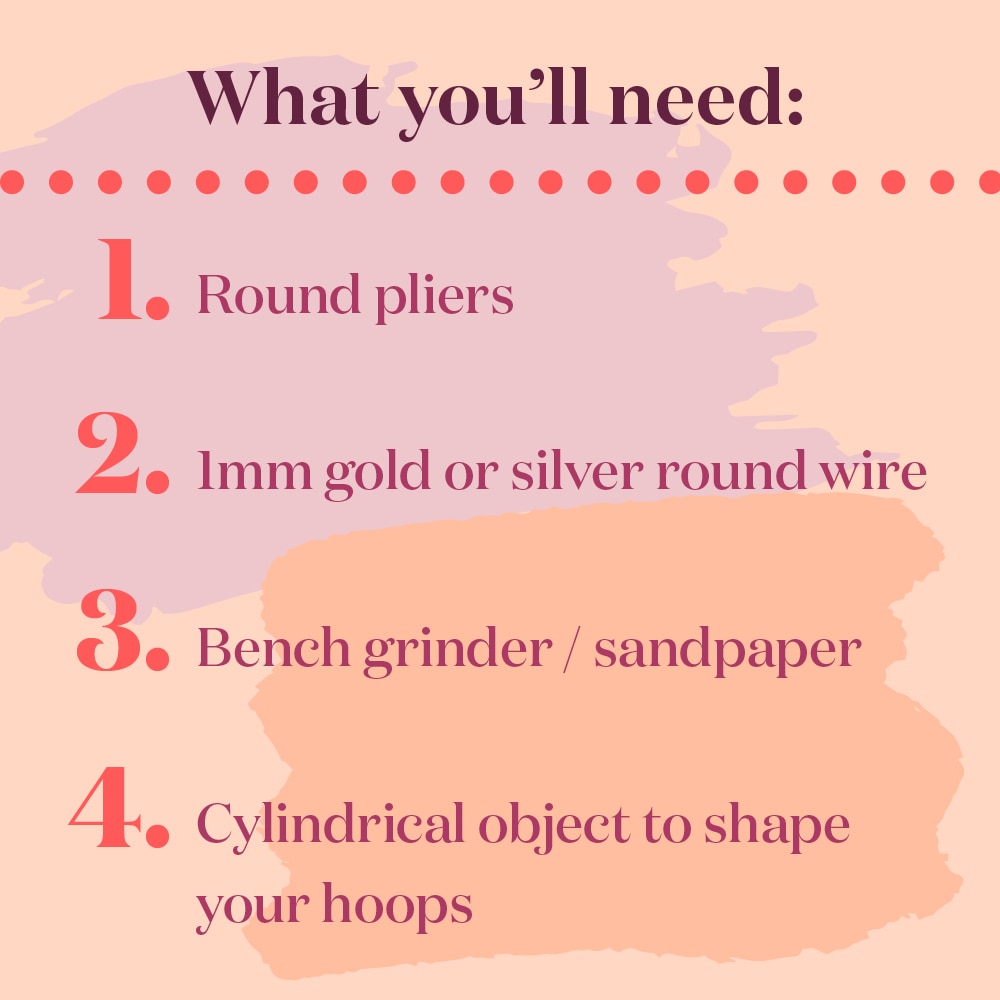 Step One:
Using your pliers, make a small loop at the end of your wire.
Step Two:
Find a cylindrical object around the house that has the circumference you want for your hoops. Wrap your wire around the object.
Step Three:
Where the end of the wire meets the little loop you made in Step One, pinch with your pliers to create a right angle. Leave a 2-3mm space then cut the wire to create a hook.
Step Four:
Using a bench grinder (or sandpaper if easier) sand and polish your hoops.
It's as simple as that!