Saturday Night Pasta is therapy for food lovers. Elizabeth Hewson has reinvented how we cook our favourite comfort food, and we are living for weekends spent in with mates, enjoying simple food made with the best ingredients. For Elizabeth, food and cooking is a way to connect with the world – it's what makes life worth living and brings people together from all walks of life. We're definitely on side with this, which is why we are beyond happy to be sharing a bit about Elizabeth, a bit about #saturdaynightpasta and a bit of Italian joy with the world.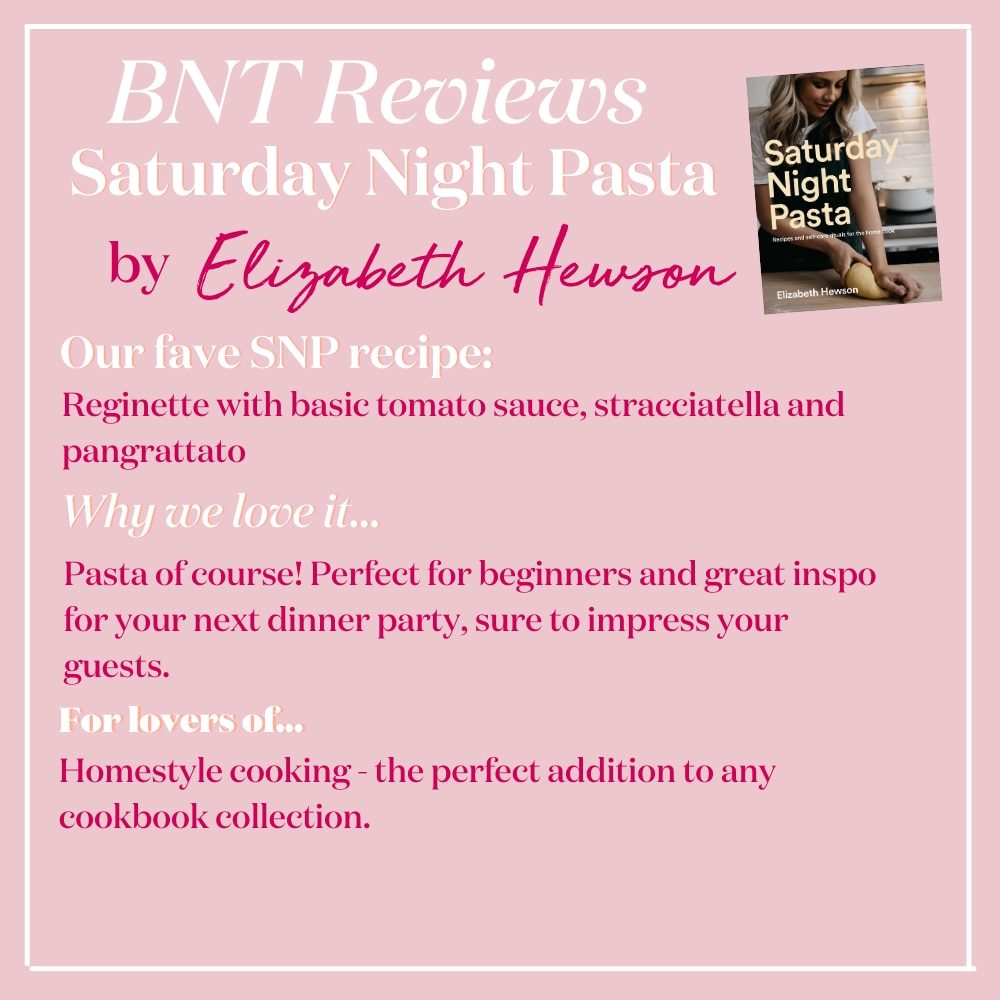 What is your favourite thing about yourself?
I'd have to say my passion and imagination. In the words of Roald Dahl, "if you are interested in something, no matter what it is, go at it at full speed. Embrace it with both hands, hug it, love it and above all become passionate about it. Luke warm is no good".
In your spare time, what's your favourite genre to read?
I know it's predictable, but I love reading about food, especially as a novel. Reading about someone's adventure or journey through the lens of food.
What piece of advice would you give to someone who would love to be a whiz in the kitchen but can't seem to get it together?
Keep it simple. Too often we feel the need to overcomplicate food especially when cooking for someone else but in reality, it is the simple food that hero's great ingredients that people are drawn too. How often do you hear people daydream of a great meal they have had in Italy – clams, garlic and chilli tossed through spaghetti or plump tomatoes piled high on a country style loaf drizzled with olive oil, salt and basil. Channel that simplicity into your cooking.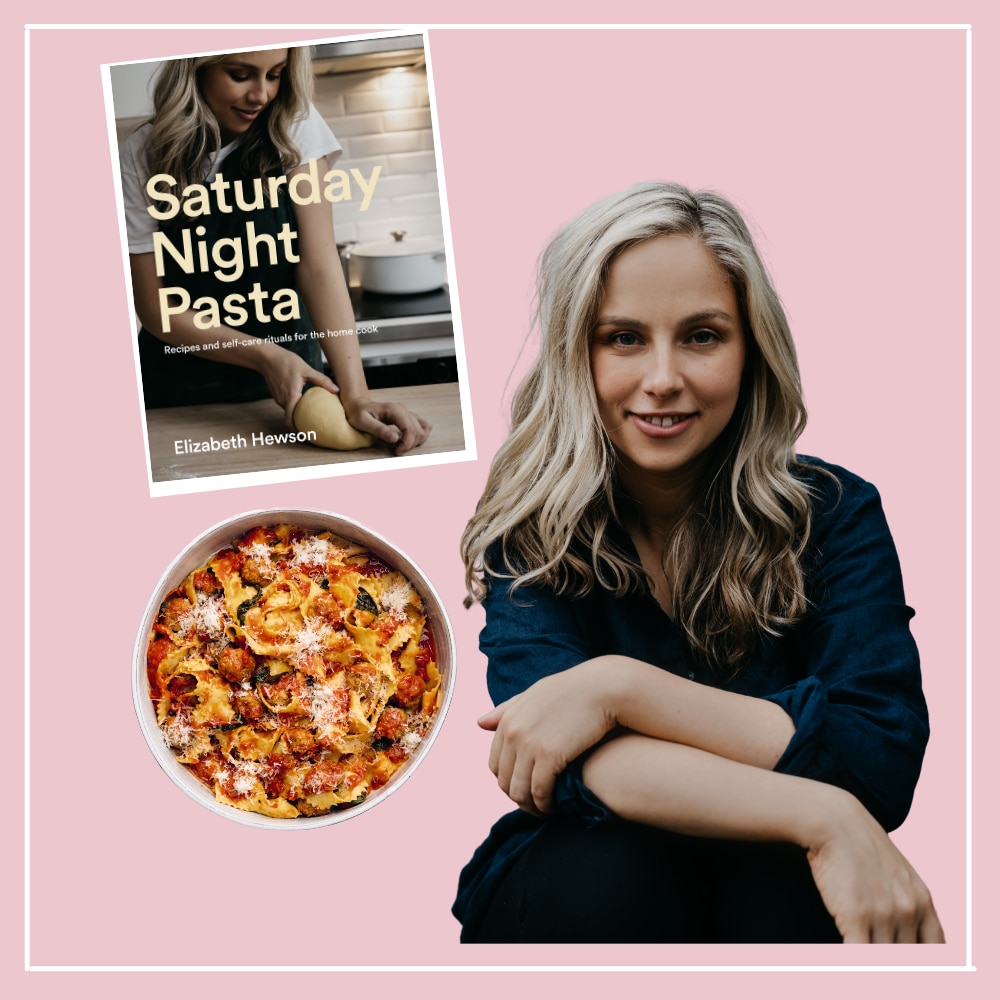 What was your favourite book when you were a child?
Imagine by Alison Lester.
I loved the imagination and creativity it inspired. I got lost in those illustrations.
What is the most challenging part of creating a book like this? What did you learn about yourself?
The importance of keeping things simple and accessible. It's easy to go down the path of assuming people will have access or know a particular ingredient or skill. I wanted to ensure Saturday Night Pasta could be picked up and cook from by anyone.
Writing a book requires a huge amount of dedication and hard work – from writing and rewriting recipes to testing and retesting recipes. Patience and passion is needed. I was also nervous to share my own struggle with anxiety but one of the most powerful things that has come from the book is the amount of people that have connected with my self-care ritual. I learnt that I'm not alone in feeling the way I do and that it is best shared.
Where do you think your love of food came from?
I have always enjoyed eating which led me to my love of cooking. The more I ate and cooked the more I wanted to know. I believe there are two type of people in this world: the people who enjoy a balance, and the people who feed on obsession. I am the clearly latter.
What is it about the act of making pasta that makes it the perfect self-care ritual for you?
When you are an anxious person you spend a lot of time thinking in the future or in the past – stressing over upcoming situations or replaying past conversations - and not enough time in the present. For me, making pasta allowed me to fully absorb myself in the task. It helped me switch off and be in the moment. This is what yoga and meditation teach you but for me, it was the simple act of making pasta. It is about the ritual I put around it – I put my favourite music on, pour a glass of wine and cook for myself. There is something very empowering about putting all that effort into yourself.
If you could only make and eat one dish for the rest of your life, what would it be?
Pasta of course – probably with a simple tomato sauce that I could jazz up and down pending on my mood.
If you had the power to snap your fingers and change one thing in the world, what would it be?
That everyone could feel and give kindness.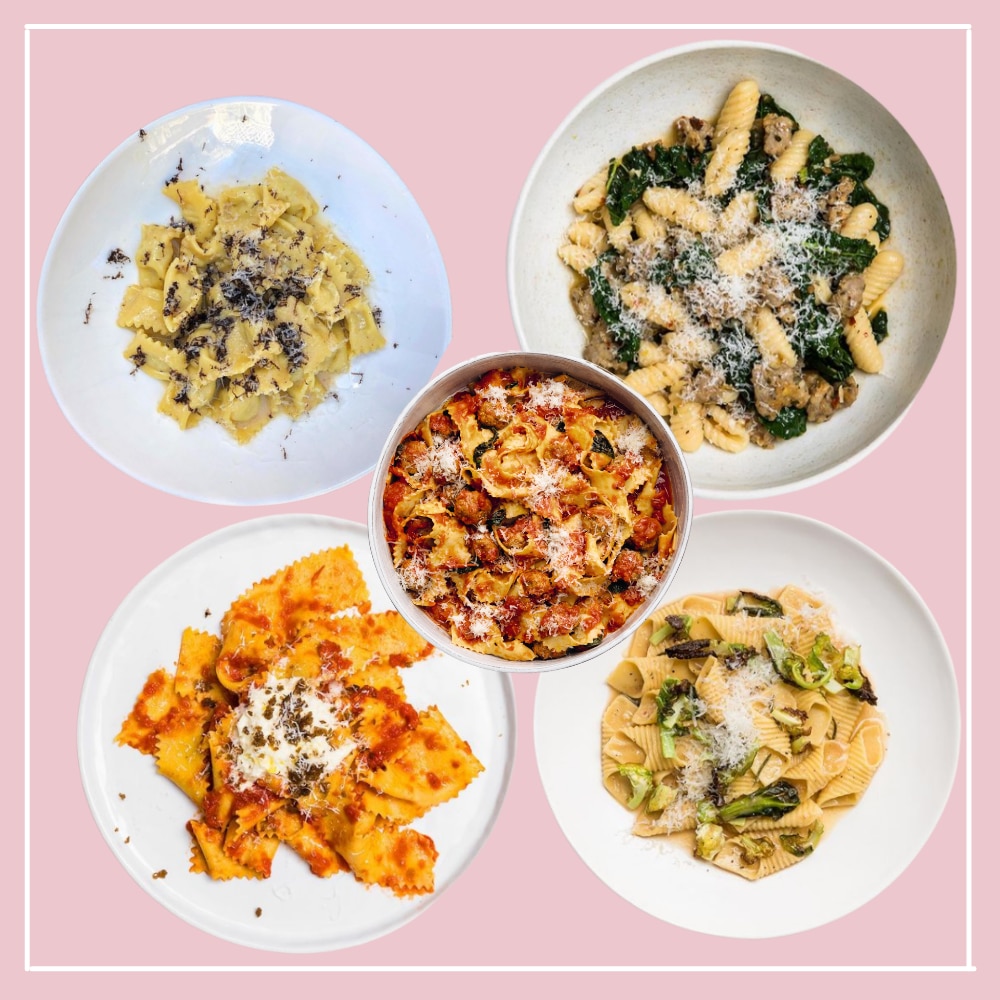 We know you're keen for a taste of #saturdaynightpasta, so we've got one of our absolute favourite recipes from Elizabeth! Share your plates with us and Elizabeth over on Instagram using the hashtag, #saturdaynightpasta & #bntbookclub.
Classic Meatballs
Making meatballs is a lesson in patience. You'll be tempted to make the balls bigger and bigger as you roll. Bring yourself back to the moment and remember the end game. Oversized meatballs won't be nice to eat, plus they'll require a knife and God forbid you serve your pasta with a knife.
So turn on your music. Pour yourself a glass of wine or make a cup of tea. Turn off your phone. This is the time to focus on the task at hand. Be present.
By the way, the meatballs and sauce can be made up to 3 days in advance.
Serves 6-8
Ingredients
120 ml extra-virgin olive oil
1 small onion, finely chopped
sea salt and freshly ground
black pepper
4 garlic cloves, finely chopped
800 g canned whole peeled
tomatoes
4 basil sprigs, leaves picked
1 tablespoon salted butter
Classic meatballs
3 slices of stale bread,
crusts removed
3 tablespoons full-cream milk
300 g pork mince
300 g veal mince
zest of 1 lemon
1 garlic clove, finely chopped
1 small egg
pinch of freshly grated nutmeg
2 tablespoons chopped flat-leaf
parsley leaves
60 g (¾ cup) grated Parmigiano
Reggiano, plus extra to serve
1 teaspoon sea salt
FRESH PASTA FOR 6–8
reginette (mafaldine), cavatelli/
malloreddus, tagliatelle
DRIED PASTA FOR 6–8
rigatoni, spaghetti
To make the meatballs, place the bread in a shallow bowl and pour over the milk. You want to leave it to steep for a few minutes. Squish the bread between your fingers to turn it into a wet, milky mush. It feels good and serves as a reminder that your hands are by far the most useful kitchen tool you own.
In a large bowl, mix together the rest of the ingredients – that's the milk-soaked bread, the pork and veal mince, the fragrant lemon zest that's going to lift the meatballs, the punchy garlic, an egg that will help bind the balls, the nutmeg that will add a subtle depth, the parsley for freshness, and, finally, the king of cheese, the Parmigiano Reggiano, along with the salt.
Use your hands again to squish everything together. Listen to the squelch as the mixture moves between your fingers. It's child's play. Remember the joy you used to feel as a kid when you played with playdough? Channel that happiness. Ignite that child within – that part of you who never forgets the importance of laughing for no particular reason, of imagining far beyond what the rational mind can comprehend, and of sitting in wonder at the most mundane. The mixture is now all brought together and ready to be rolled.
Wet your hands (this makes it much easier to roll the meatballs). Use a teaspoon to scoop out a little mince. You want to make meatballs the size of cherry tomatoes. Start rolling, placing each meatball on a baking tray lined with baking paper so they don't roll away. Repeat, checking the size of your meatballs as you go, and don't forget to keep wetting your hands. Savour this slow repetition of action, it's calming. When you've got a tray of meatballs, place them in the fridge for 30 minutes to chill. Just like you.
Everyone and everything is now chilled. Heat a large deep frying pan over medium heat. When it's hot, pour in 3 tablespoons of the olive oil. Carefully place your meatballs in the pan evenly spaced apart. Much like rolling the meatballs, resist the urge to speed up the process by over-crowding the pan. It's only going to catch up with you later. If they won't fit in one go, cook them in two batches. Listen to the sizzle and cook your meatballs until they have a nice brown crust on one side, then roll them over and continue to cook until that crust has developed all over. All up, this will take about 6–8 minutes. Remove the meatballs from 185 the pan and place on a plate. If your pan wasn't big enough to cook all the meatballs at once, repeat with the second batch. This can also be done in a 200˚C oven. Now you will probably need to wipe a paper towel over your pan to remove any gnarly burnt bits to get it ready for the sauce.
Pour the remaining 3 tablespoons of olive oil into the pan and add the onion and a generous pinch of salt to coax out the moisture. Stir and cook for 10 minutes or until the onion is translucent and soft. Stay with your pan over this time. I've been burnt too many times by onions. Add the garlic and stir around the pan for a further minute. Now pour in the tomatoes. Fill one of the cans with water and swirl it around to catch all the tomatoey goodness. Tip the tomato juice into the other can to do the same, then pour into the sauce. Tear in some of the basil leaves, reserving a few to garnish the final dish, if you like, and season with salt and pepper. Give everything a big stir, using the spoon to break up the tomatoes.
Leave the sauce to do its thing for 30 minutes, then pop in your beautifully browned meatballs. Take care here, they are still delicate. We want them to hold their shape while they finish cooking in the sauce. Put the lid on, reduce the heat to medium–low and leave to simmer for 15–20 minutes. At the end of all this cooking time, check your seasoning. Add salt and pepper if needed.
Bring a large saucepan of water to a lively boil and season as salty as the sea. Add the pasta and cook until al dente.
Using tongs, pluck the pasta out of the water and drop it directly into the sauce. Finally, add the butter for a glossy shine. Remove the pan from the heat and give everything a good toss. Serve straight from the pan or in a large dish in the middle of the table so everybody can help themselves. Finish with extra Parmigiano Reggiano and the reserved basil leaves, if using.
Join the #saturdaynightpasta community! Elizabeth shares her pasta-making over on her Instagram profile, showcasing her favourite recipes from Saturday Night Pasta, available to purchase here.