Whether it's baking up a storm or organizing your bookshelf by colour, it's fair to say we've all found new ways to enjoy a slower pace of life while embracing the comforts of home. And now, as the weather turns cooler and we get ready for more lazy, snug days at home, it's time to elevate your comfort wardrobe from lackluster to luxe.
If 2019 was the year of athleisure wear, 2020 is the year comfy chic reigns supreme. Introducing Luxe Lounge, our new super soft loungewear range that is designed for kicking back at home but are also perfectly acceptable outfits to be wearing if you accidentally run into your ex down the street.
Easy fit for extra comfort the collection features key pieces to suit every mood that can be mixed and matched to create a range of looks. Chill out to a podcast (or five) in our long jogger pants and long sleeve slouch top with twist front detail, or dress up in our racerback grey slip for that on-the-hour stroll to the fridge. Our unlined bralette is perfect for transitioning back to wearing a bra each day as we emerge from isolation – want to know more? We've got the lowdown on Bras You Won't Want To Rip Off here.

The range features product made from soft jersey knit material with a relaxed fit, perfect from transitioning from sleep to street. Made of a super soft brushed rib fabrication, these styles are perfect for lounging around the house. Choose from jogger shorts or a long pant option, with a drawstring waist easily adjustable for that post-dinner transition. Pair it back with our on-trend knot front tees, available with a long or short sleeve, for a Sunday worthy outfit.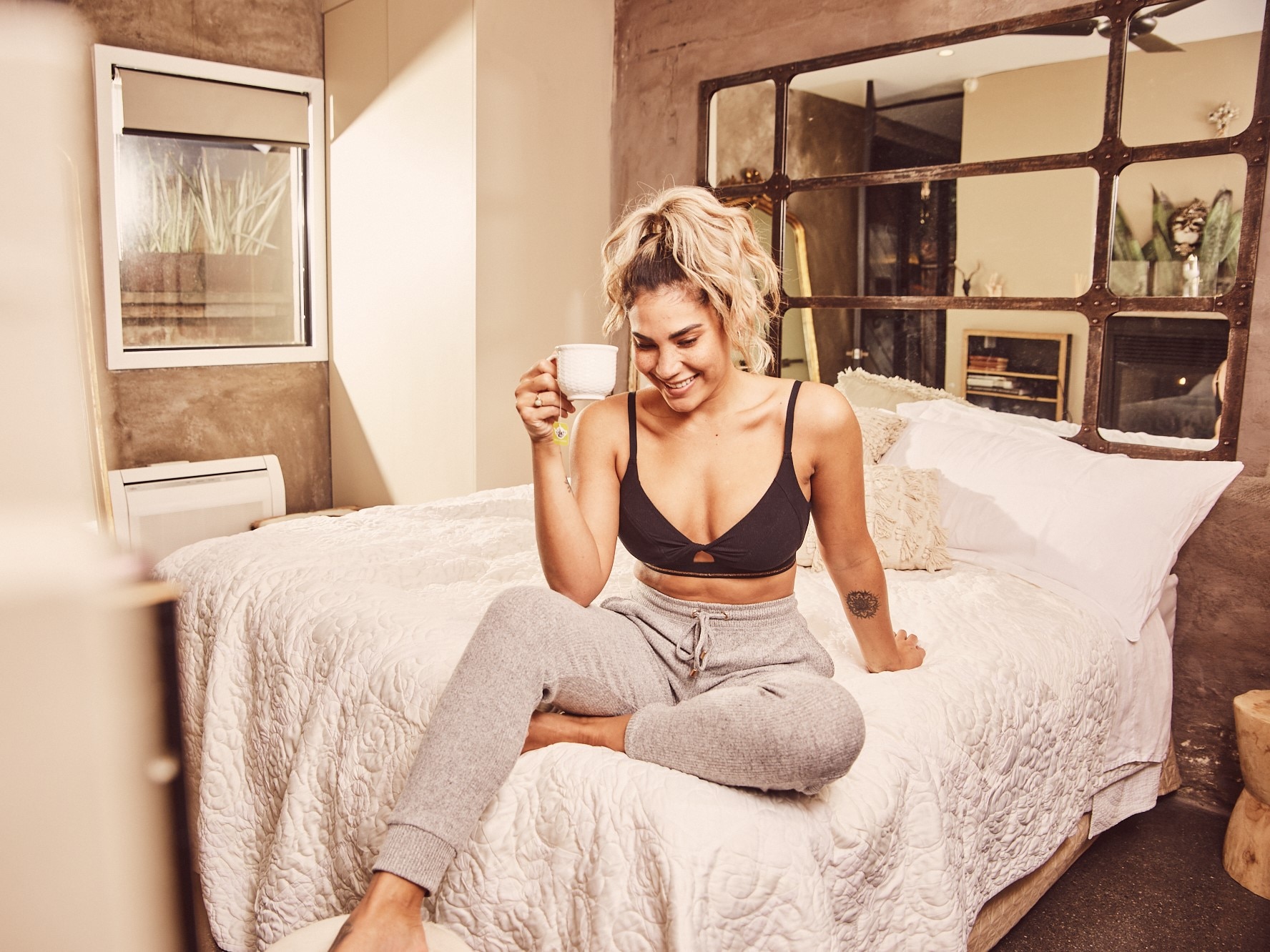 To celebrate the launch of our new Luxe Lounge range, we've got our top tips for passing time, whilst looking fine.
Podcasts
Podcasts, podcasts, podcasts. We are obsessed with Shameless podcast, which are candid conversations between a couple of smart women who love dumb stuff. CAN. RELATE!
Baking
Baking, because those old bananas in the freezer won't bake themselves.
Puzzles
Do a puzzle! We're not joking! Completion of puzzles can cause instant pride and self-gratification. Warning! Not suitable for adults who have consumed multiple mulled wines (check out our recipe here). Hazards can include, but are not limited to, loss of puzzle pieces and following this, mental state.
Self-love
Serve up some of that self-love and remind yourself of five things you LOVE about yourself! Don't shy away from owning all that love. Own who you are, celebrate your honesty with nothing to hide. When you've counted those five things, recall the famous words of Cady Heron; 'the limit does not exist'. The ways we can celebrate all the complexities that make up the incredible unique being that is YOU, are infinite. (Which is an exhausting concept, lucky you have our Luxe Lounge range to contemplate this in).
Love the skin you're in and wrap it up with our new Luxe Lounge range, available here